Mousey Alexander (1922–1988)
American drummer. Worked at the Blue Note as a Dixieland drummer with Jimmy and Marian McPartland. Performed with Jimmy Smith, Benny Goodman, Bud Freeman, Buck Clayton, Zoot Sims, Lee Konitz, and more.
Bibliography
Lewellen, R. "Mousey Alexander: Profile in Courage. Modern Drummer 12, no. 6 (1988): 46.
Mattingly, Rick. "Mousey, Alexander." In Grove Music Online/Oxford Music Online (2003), www.oxfordmusiconline.com.
Obituary: New York Times, October 12, 1988.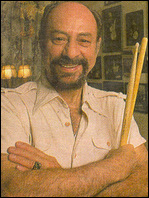 Collection items
Interview with Bill Spilka
February 8, 1981